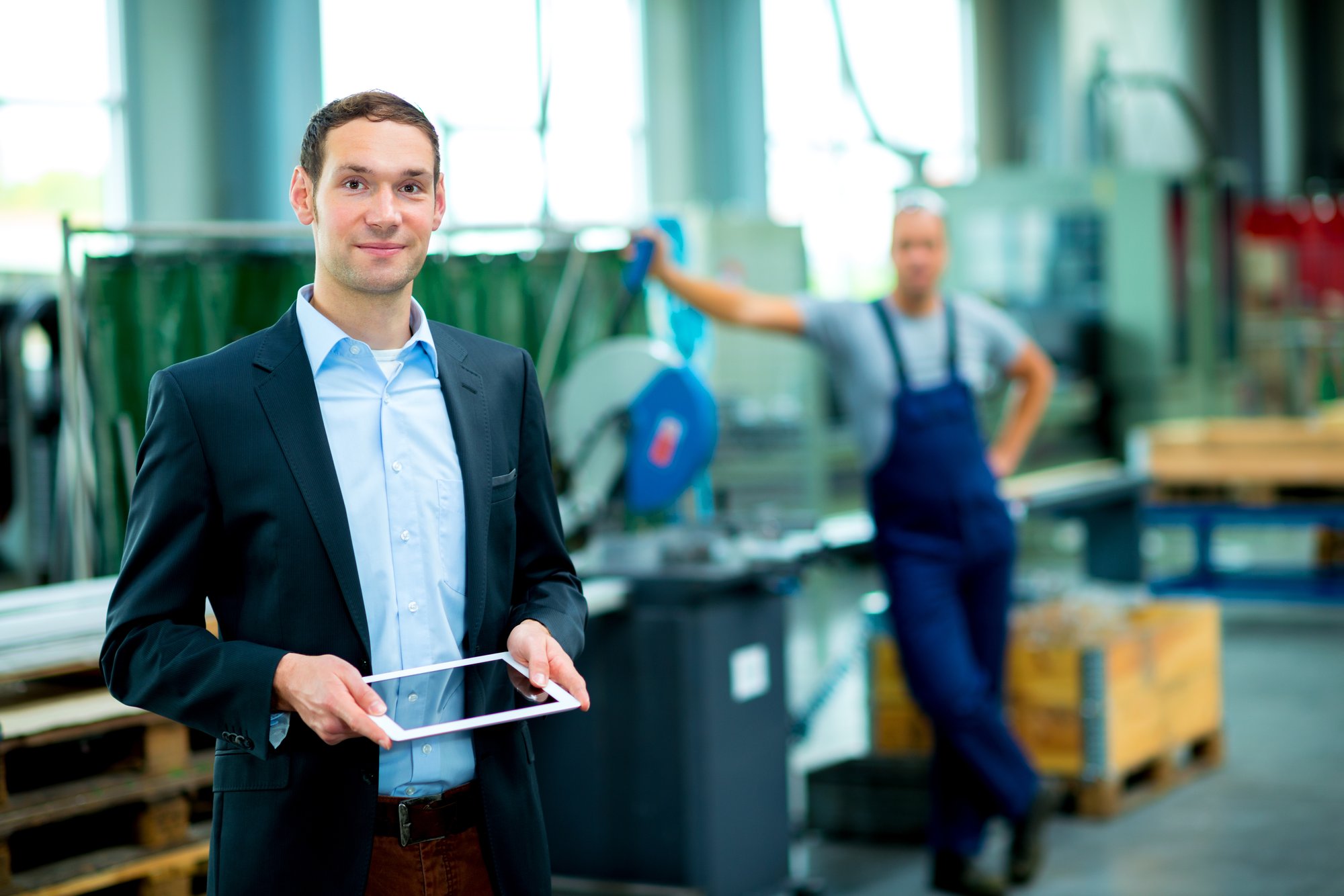 As a production manager, you likely spend plenty of time wondering if today's orders are running on time, how to improve the productivity of temporary workers or how much capacity is available for the week. These are all important operational issues that directly impact the factory's bottom line. But what about the company's executive leaders? Their concerns are probably much different: cost and price optimizations; capital budgeting; and strategic goals. In short, they're worried about business issues instead of operational issues.
That same distinction applies to how they evaluate the potential ROI of an Industry 4.0 initiative. Where production managers might focus on reduced downtime or improved quality, C-suite executives will be more interested in possible cost savings or additional revenue over the course of months or years. This different lens can make it difficult for production managers to successfully convince business leaders to invest in Industry 4.0 initiative; production managers and others who oversee daily operations tend not to translate the potential operational value into business value, an invaluable step in gaining the support of the C-suite.
Evaluate direct and indirect impact
Calculating the potential business value of an Industry 4.0 project can be difficult. After all, there is no usually no historical data available as a baseline. Instead, examining the potential direct and indirect impacts of the project can help shed light on both operational and business value.
Direct impacts are those that occur as soon as you hit the On button and are usually operational:
Quality improvement
Reduction of downtime
Quicker reaction times
Reduction in administrative overhead
Indirect impacts accrue over time and are more likely to relate to business value:
Improved transparency yields opportunities for strategic potential; cost/price optimization; benchmarking standards; and more accurate capital budgeting.
Operational improvements allow more accurate detection and prevention of bottlenecks; and the ability to develop and implement best practices.
By pairing an organization's existing metrics with a realistic estimate of potential Industry 4.0 improvements, it is possible to calculate the probable ROI of the improvements.
Case study: A simple solution yields dramatic potential
Faced with excessive unplanned downtime, an injection molding manufacturer was searching for an Industry 4.0 solution for quickly responding to machine failures. We implemented a rather simple sounding remedy: workers got a mobile text message (SMS) as soon as a machine started operating outside its normal parameters. This approach combined a technology workers were already familiar with (texts on their mobile devices) with a new technology (machine sensors retrofitted on existing equipment so machines could autonomously report their operational status).
From an operational perspective, the key inputs included the number of shifts, shift length, number of workstations, unexpected downtime, average downtime duration, average notification duration (the time that passes before the right person is notified of the interruption). Outputs included the number of interruptions per day and notification time per day, along with the potential new notification duration and the potential uptime increase. Reducing the average notification duration (5 minutes) by 90% promised to yield an additional 15 hours of uptime per day.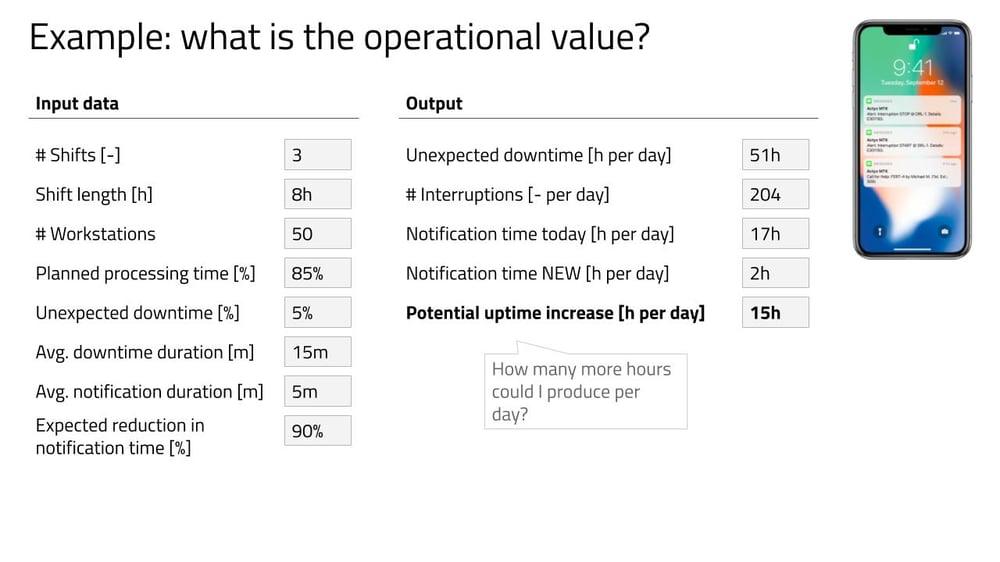 Calculating business value required different, usually company-known inputs. On the one hand, these were the number of workdays per year and the revenue per year, but also the costs per hour of production hour and the share of material costs on the revenue. With regard to the 15 hours of production downtime saved per day and the costs per production hour, this resulted in a potential saving of around 118,000 € per year. Assuming that in these 15 hours per day production would take place instead, there was even a profit potential of around € 137,000 per year. Given those figures, business leaders were enthusiastic about the initiative.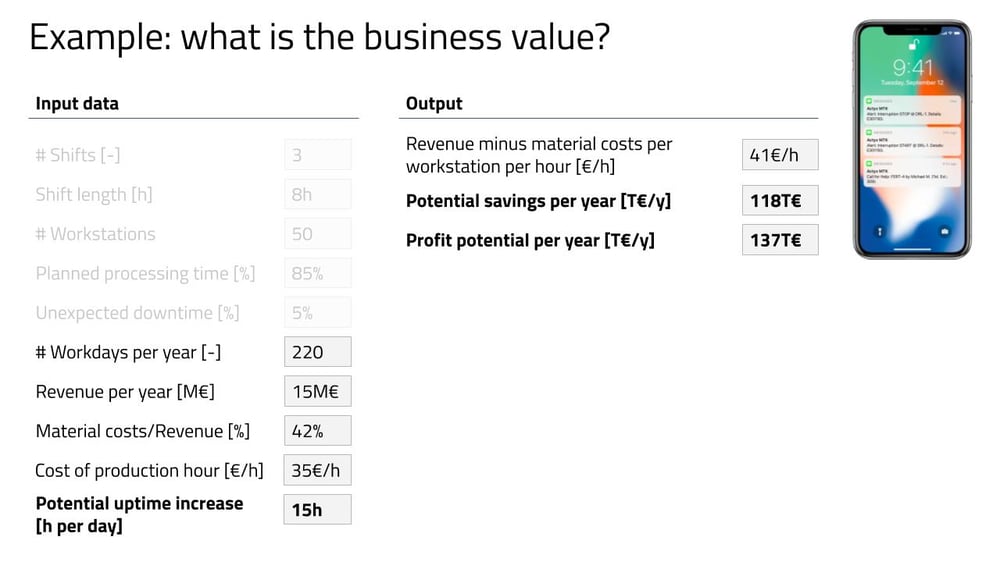 This project represented an ideal first step toward Industry 4.0 not only because it promised both operational and business value, but also because it addressed a major pain point with a relatively low-risk solution. The SME's most successful at Industry 4.0 initiatives take a step-by-step approach. They identify opportunities for quick wins and implement one solution at a time. The ideal quick wins tackle a major pain point, and they also affect the worker, production manager and CEO. When a problem impacts stakeholders at every level of the organization, it's often easier to get company-wide support for the initiative--critical for the success of any first Industry 4.0 project.
Understanding the true ROI of an Industry 4.0 requires examining both the operational and business value of the initiative. Articulating these values can help to gain buy-in from various stakeholder groups, while also providing a more complete look at the potential ROI of the project.