Gartner's IT Glossary defines digitization as the process of changing from analog to digital form. It has become synonymous with going paperless, but that oversimplifies the concept. Digitization is a critical first step in any manufacturing organization's journey to Industry 4.0 because it involves the transformation of data into a tool that can be easily used to generate actionable insights to increase efficiency and performance. That is, digitization yields the transparency necessary to make progress toward Industry 4.0 in a way that actually brings value.
Benefits of transparency
We often encounter SME business leaders who are interested in attaining transparency through digitization but are unsure of the concrete benefits of undertaking the process. It's important to remember that transparency itself isn't a value. The value of transparency comes when you apply all the data to make meaningful business decisions. In this context, transparency offers benefits for every stakeholder in your organization.
C-level executives: Complete transparency allows the C suite to quickly and easily understand whether the organization is on track to meet strategic goals or in danger of exceeding budgetary constraints.
Business managers: Total visibility gives managers the data they need to manage departmental and company-wide operations, identify potential bottlenecks and appropriately focus support resources.
Operations managers: Real-time dashboards give operations managers the information they need to identify and fight bottlenecks; adjust employee workloads; and maximize asset utilization.
Workers: Thanks to 360° transparency, workers are better able to intuitively track their own progress, devote attention to the right activities, identify potential challenges and proactively seek assistance or resources.
Sales managers/customers:

Ultimately customers indirectly benefit from complete transparency thanks to improved business operations that can result in increased worker productivity, faster delivery times and reduced downtime.
A step-by-step approach to achieving transparency
When executed correctly, digitization can be a boon for your organization. We recommend a step-by-step approach, rather than an all-at-once conversion for multiple reasons. A quick win with a smaller digitization initiative can go a long way toward building user acceptance, a key element to any successful IT project, especially if employees are reluctant to learn about and use new technology. Meanwhile there is no such thing as too big to fail in the IT world. The larger and more complex the IT project, the more likely it is to drag on without completion, to reach completion without achieving the desired value, or even to fail entirely.
As you consider which information to digitize first, think about how transforming that information could also allow you to impact the operational and business processes that information is used for. To achieve end-to-end digitization, you'll ultimately need to address each of the areas below.
Data collection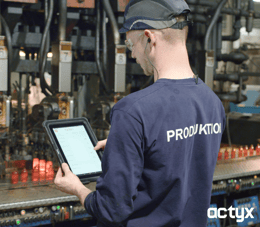 Digitization makes it possible to collect a much wider variety of data without human intervention. For example, instead of a manager's physically visiting a machine and writing down its readings on a ledger, a sensor on the machine can automatically collect that data and feed it to the correct systems to be used in software, such as a mobile team collaboration application. Thus digitizing the data from the machine not only brings more transparency, but also allows you to automate data collection, which ultimately eliminates down time, reduces lead times and supports the development of actionable, data-driven insights.
In some cases, data cannot be collected automatically. But it's still possible to make it available in real time, for instance through logging it at industrial tablets at a workstation. A user-friendly interface helps ensure data quality. Data collected in this way can still be integrated into other digitized processes later on.
Data processing
Processing data means transporting, transforming, storing or bringing together data to make it useful. It's often treated as a background function, but it provides the underpinning for the application and analysis of data — the ultimate reason that transparency drives value creation. You can digitize data processing regardless of whether data are collected manually or automatically. From an IT standpoint, digitizing data processing can be a complex endeavor, requiring sustainable integrations of industrial applications with the ERP or other systems.
Depending on the use case, the data processing must also be extremely robust. For instance, mission-critical applications like the internet, the ERP system or certain hardware devices always need to perform without failure. This is why we have developed the decentralized Actyx Ada Architecture, which uses a hybrid cloud/edge architecture to eliminate that complexity, while still delivering robust reliability and sustainability.
Data presentation
When most people think of transparency, they think of data presentation: slick dashboards where information is instantly available at the click of a button. When information is available only in analog format, this kind of accessibility is basically impossible. Producing a single weekly report might require a worker to pull data from multiple separate documents, which potentially introduces errors to the data along the way, and precludes real-time dashboards.
Digitizing presentation and reporting functions yields much more robust reporting and analytics that can improve overall operational efficiency and keep your team aware of operations from anywhere, anytime. For example, you might check an operational-KPI report every Friday, filtering the data to focus on a critical department. Or use a pre-built report to quickly and easily prepare shop-floor management rounds. Visual management dashboards also ease collaboration among team members and streamline real-time asset and process oversight.
The journey toward end-to-end digitization is one that can result in dramatic operational improvements thanks to complete data transparency and, more importantly, the ability to apply data to daily business decisions.
Would you like to find out how you can successfully step into the digital era without having a big IT Project? Take a look at our innovative All-Inclusive Package, where you only pay after successful installation.